a

bout me!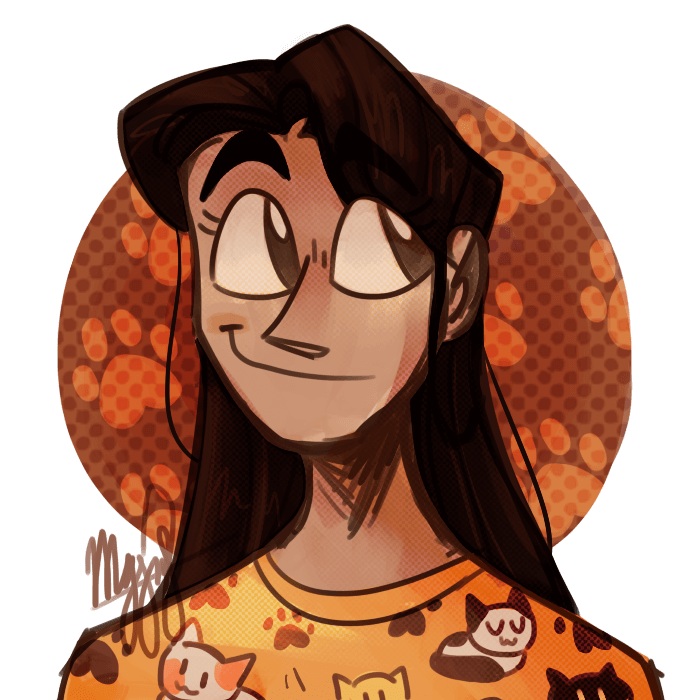 Hello hi! I'm Gene, and welcome to my cozy little corner of the internet. I'm currently 22 and I use she/her pronouns! I'm a Filipino artist who loves original characters and stories and a lot of other fun stuff! I'm currently studying in college right now but I try to find the time to work on my art. I'm self-taught and I've never had any formal art classes other than the mandatory ones in school. I learned from various artistic inspirations throughout the years, and I insert a lot of my gained interests into my work! I've been drawing since I was 5, more or less, and I remembered making stories and comics around the same time.
Also pardon if my sentence construction sounds weird sometimes, English is not my first language and classic lit ruined the way I use commas, so I'm very sorry for the running sentences. Nagsasalita ako ng Tagalog! Pwede kang makipag-usap sa akin ng ganito kung maalam ka, pero ok din sa akin ang Ingles 'wag kang mag-alala SDFKHS
BTW I have two main sonas that I regularly draw to represent myself, other than my actual self: Beans, the moth/worm on a string nerd, and Dr. Soma, the neuron! You'll see them around.
My tools of the trade are Paint Tool Sai, Ibis Paint X on mobile, Clip Studio Paint (sometimes), and Photoshop for editing stuff. I use Notepad++ for most of my coding, and my main browser of choice is Firefox.
Also, I'll credit any works I post here to the respective creators, aside for myself! The backgrounds for most pages of this site are screenshots of Minecraft builds that I made on my own. I use Mizuno's 16craft as the mod pack!
w

hy build a neocities site?

I've always wanted a personal little space where I can just do whatever!! I've always enjoyed the idea of having my own fully customizable site. When I was introduced to HTML/CSS by my ICT teacher from high school I was HOOKED with making HTML pages for my characters, stories, future webcomics–this is me finally doing what my younger self would've loved. I've mostly gotten the hang of it from reading tutorials, and I've practiced a lot from making my own codes in Toyhouse, but I'd also be interested in learning Javascript someday!

Originally it was just going to be a showcase/an introduction of all my currently developing stories for people not caught up in the lore of my incoherent ramblings about my Blorbo of the Week - but it wouldn't hurt to add more stuff in here too! This is why my site is the way it is today. I started this idea for a carrd site, but I felt that the free features were pretty limiting - sometimes I love the challenge of limitations, but honestly I realized I wanted to do more with this, and I'm glad neocities is here to be the perfect alternative.
c

ollections

Putting some pets in here since I got into Chicken Smoothie...I'll add other stuff here when I get to it >:]

Credits: Chicken Smoothie